Unlocking innovation 'key' to NHS research success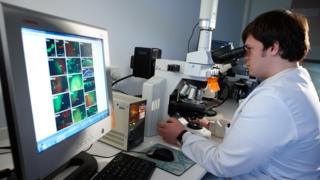 Doctors need to be given freedom to do research alongside clinical work to aid medical advances, according to a pioneering scientist.
Dr Kunnathur Rajan led tests in the 1970s into the effects of asbestos on the lungs and smoking-related cancers.
Swansea University's Prof Keith Lloyd said the key is to "unlock the innovation" in the NHS.
The Welsh Government has said a "significant minority" of doctors do research and it hopes numbers increase.
Despite time and financial pressures, Dr Rajan said allowing consultants to conduct studies would save the NHS money in the long-run because of any subsequent breakthroughs.
He said: "Doctors can be trained in medicine but that doesn't mean they can do research. It took me seven years [to learn]."
Indian-born Dr Rajan studied at the Christian Medical College, Vellore, and worked at hospitals around England before deciding to broaden his research by doing a PhD at Cambridge University.
While there, he worked with Dame Honor Fell, who is credited with developing the organ culture method, growing living cells in the laboratory so they can be studied.
In 1970, Dr Rajan joined the pneumoconiosis research unit at Cardiff's Llandough Hospital, where he led research looking into the effects of asbestos on the lungs.
To illustrate this, he developed the organ culture method for adult pleura (lining of the lung) and grew a tumour.
The work was seen as a breakthrough and the results published in the Nature journal in 1972.
Other research at the unit included looking at the effects of smoking on human lungs and maintaining pancreas and human brain tissue using the organ culture method.
When this work ended, Dr Rajan took a position as a consultant physician in rheumatology in Rhondda Cynon Taff.
After a visit to the USA for a conference, he was convinced diagnostic equipment to check bone density could help rising cases of people suffering from osteoporosis.
With no funding available in the NHS, he approached local mayor Edie May Evans, who helped raise £60,000. The service is running at Pontypridd's Dewi Sant Hospital.
"I scanned 16,000 patients on the NHS with it and published nearly 100 papers - I found that if you can catch the signs of osteoporosis early and treat it, you can save a lot of money.
"Early intervention can prevent fracture - which also means the quality of life for the patient is better because if they break their hip and have a replacement, it is not the same as having their own."
Dr Rajan described himself as "an eternal student" and said all consultants should carry out research alongside clinical work.
A "significant minority" is currently involved, according to Dr Jon Bisson, director of the Welsh Government's Health and Care Research Wales.
While he believes skills and job pressures make it "unrealistic" that all could carry out regular research, he wants to ensure everyone has a chance.
"We should be playing to individual strengths - some are more interested in research, some have backgrounds that make it more likely for them," he said.
"As we move forward, some will be the key investigators."
Currently, some doctors have a half day a week for research in their contract, while others are able to discuss ring-fencing time with their managers or apply for funding.
Dr Bisson added: "I want to see pockets of excellence that exist grow throughout Wales."
One of these is emerging through a link-up between Swansea University Medical School and the Abertawe Bro Morgannwg (ABMU) and Hywel Dda health boards.
Under the banner of A Regional Collaboration for Health (ARCH), it aims to develop more opportunities for healthcare research work.
This will not be the route for all consultants though, said Prof Keith Lloyd, dean of the medical school.
While he said an "understanding of how to appraise evidence and understand research" is a core skill for all doctors, not all will be involved on an ongoing basis.
Some will instead focus on things like teaching and management alongside their clinical work.
However, he believes ARCH has the potential to "unlock the innovation" in the NHS.
Through the project, Dr Ernest Azzopardi is able to divide his time between ABMU's Welsh Centre for Burns and Plastic Surgery and Swansea University Medical School.
His research into burn and surgical infection won the Royal College of Surgeons' Hunterian Medal, given for work which leads to substantial change in patient treatment.
He thinks the "unique approach" taken by ARCH will lead to many other breakthroughs.
"Infection is a major challenge for the NHS. I do believe that through this collaboration between health and science, it is a challenge we will win," he said.