Cows, deer and dogs among animals shot by Welsh police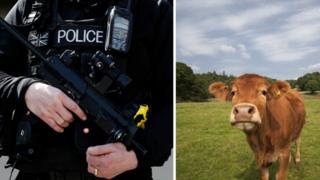 A charging cow, a runaway bullock and a dog that had mauled its owner are among the animals killed by police officers.
A Freedom of Information request showed 15 animals have been killed since April 2013 - all were shot by firearms officers except the dog run over by North Wales Police on the A55.
They include badgers, horses and deer.
Dyfed-Powys Police killed three animals, North Wales Police 11 and South Wales Police one. Gwent Police would not provide figures.
Nine of the 11 animals killed in north Wales had been hit by cars or lorries on the road so police said they were "dispatched by firearm" to end their suffering.
The dog on the A55 in February was killed as police could not contain it and said the "only safe option" was to destroy it.
Firearms officers were sent to the scene, but there were concerns they would not be able to get a safe shot.
Dyfed-Powys Police shot two cows with a rifle in Carmarthen in April 2014 after they got loose and were running around on busy roads - one also charged a police officer.
In March 2015, a bullock managed to escape from the cattle market in Brecon and could not be controlled. Officers deemed it was a danger to the public so it was shot.
South Wales Police shot a dog in Port Tennant, Swansea, in June 2014 after the animal attacked its owner, causing them extensive injuries.