Hundreds take part in joint-military exercise in Wales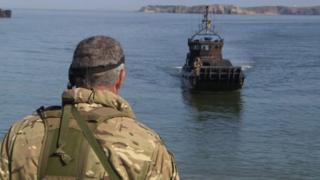 Hundreds of British and French soldiers, marines and sailors have been taking part in a major military exercise in Wales.
"Griffin Strike" is the culmination of a defence agreement between Britain and France, signed in 2010.
An operating base was set up by 16 Air Assault Brigade at a disused airfield in Templeton, Pembrokeshire.
Meanwhile, Royal Navy and Marine Nationale practised amphibious landings off Tenby.
Speaking to BBC Wales onboard flagship HMS Bulwark - which led the landings - Brig Jim Morris, the commander of 3 Commando Brigade, said it was an exercise on a very large scale.
'Sizable'
"It's a sizable Royal Marines force which we are integrating with our French allies," he said.
"There are 1,800 people deployed in this part of the task group, 160 vehicles, four amphibious ships and a plethora of landing craft and aviation."
The common language for the exercise is English.
Armoured vehicles, RAF Chinook transporters and Apache attack helicopters have also carried out training at Castlemartin, in Pembrokeshire, and at Sennybridge, Powys.
The exercise began earlier in April on Salisbury plain, where more than 5,000 British and French armoured infantry and airborne troops began the manoeuvres.
Its aim was to prove the capability of the Anglo-French Combined Joint Expeditionary Force (CJEF).
Six years ago, Prime Minister David Cameron signed the Lancaster House treaties with the then-French President Nicolas Sarkozy
A defence and security agreement set out a strategy for close co-operation between the nations' armed forces, beyond the framework of NATO.
As a result, the CJEF became the joint British and French military force with elements on land, sea and air.
Cdr Philippe Guyon of the French Marine Nationale said it was only the "first step" of a wider strategy.
"During Griffin Strike we will validate the full capability and we are currently creating the tools that we need for the future. We will continue to practise. It's absolutely needed and we will continue to plan exercises and operations."
During the exercise, RAF Typhoons have also carried out training sorties alongside French Rafale fighter aircraft.