More A&E patients waiting longer in Welsh hospitals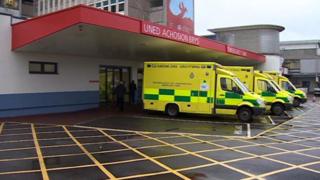 Waiting times to be seen in Welsh emergency departments have deteriorated again, latest figures show.
In March, 76.3% of patients spent less than 4 hours in urgent care units before being admitted, transferred or discharged - down a percentage point from 77.2% in February.
The target is 95% of patients should spend less than four hours in A&E.
The Welsh Government said last month it reflected the fact that A&E departments had been busier than ever.
The figures also show nearly 4,400 people spent longer than 12 hours waiting in A&E - up 21% on February - despite a target for zero patients waiting over 12 hours.
In previous months, much has been made of additional winter pressures on urgent care units across Wales.
The statistics for March back that up again - with 5,000 more patients going to A&E than in the same month in 2015.
Illnesses such as flu and norovirus, also known as the winter vomiting bug, are thought to have placed extra strain on services.
Recent figures suggest A&E departments in other parts of the UK are also struggling to meet increased demand, with performance in England also sinking to a new low in recent months, although better than in Wales.
The NHS services in Scotland and Northern Ireland are also not meeting their targets.