Giorgio Chinaglia: Swansea to Italian and American stardom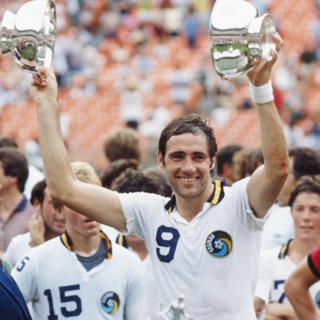 The Lazio faithful of the 1970s nicknamed Giorgio Chinaglia "Long John", in reference to both his physical resemblance to John Charles and the fact they both began their journeys to Italian stardom in Swansea.
But in truth there can hardly have ever been a less fitting sobriquet in the history of football.
Charles earned the title of "il Gigante Buono" - The Gentle Giant - for his famously humble nature off the field and the fact that he was never once booked on it.
Whereas Chinaglia - quite aside from violent outbursts against opponents and teammates alike - was an extrovert, arrogant, self-confessed fascist, who carried a gun, fled Italy for the USA amid death threats from terrorists, and was investigated for suspected money laundering links to the Mafia.
Against this background, it would be easy to forget that he was also one of the most talented strikers of his era, scoring 321 goals in 525 appearances, most notably in guiding Lazio and The New York Cosmos to their respective league titles.
Yet only one of those 321 goals came for Swansea Town, where it all began for Long John.
'Desire to succeed'
Freelance football journalist Ross Highfield first became fascinated with Chinaglia's life when studying Italian at university.
"His father was an unemployed steel worker from Tuscany and the family moved to Wales in search of work in 1955 when Chinaglia was just eight," Mr Highfield said.
"Those tough few years when they arrived stayed with him and strongly influenced his desire to succeed in everything he did.
"He saw himself as Italian first and foremost, and latterly as Italian-American, but he frequently referenced having arrived in Wales with nothing but the nametag in his jumper and having to steal milk from doorsteps for breakfast. So in a way you could say he never forgot his Welsh roots."
Football was Chinaglia's route out of that hardship; he maintained in later life that rugby was only played by ugly people.
Aged 13, Chinaglia was spotted by Swans coach Walter Robbins scoring a hat-trick for Cardiff Schoolboys against Wrexham.
Yet that was to prove a false dawn, as Chinaglia managed just a solitary strike in a 2-1 defeat to Bournemouth, during four miserable years at the Vetch which were blighted by ill-discipline, gambling and womanising.
Released by the Swans in 1966, Chinaglia spent the rest of the 1960s plying his trade in the lower Italian leagues, as playing overseas made him ineligible for Serie A for three years.
But his big break came in 1969 when he was snapped up by newly-promoted Lazio, scoring 98 goals in seven seasons and leading them to their first league title five years later.
However, it was also during this time that the darker side of Chinaglia's personality emerged in earnest.
His international career for Italy was cut short when he destroyed a dressing room following his substitution against Haiti during the 1974 World Cup.
He publicly expressed his support for the fascist party led by one of Mussolini's former henchmen, and compounded this when he gave a Nazi salute to the notoriously far-right Lazio ultras after scoring the winner in the Rome derby.
This made him the target of death threats from terrorist groups, common on both sides of the political spectrum in Italy in the 1970s.
He took to carrying a gun and in 1976 Chinaglia fled Lazio for the New York Cosmos.
"It was a huge shock at the time," Mr Highfield explained.
"The North American Soccer League was looked at as a pension fund for aging stars, so for someone like Chinaglia - at the height of his powers - to move there was something amazing.
"Quite how ideologically fascist Chinaglia was I'm not sure; he seems to have just enjoyed riling people.
"But these were dangerous times to have such opinions in Italy, when the clash between the left and the right was a very real part of Italian life, with activist and terrorist organisations on both sides, so the threats to his life were very real indeed."
Criminal investigations
Nevertheless Chinaglia's time as a teammate of Pele, Carlos Alberto and Franz Beckenbauer proved the most successful of his career, as the Cosmos became the dominant force in US soccer.
When asked what it was like to play with Pele, Chinaglia - who tended to speak of himself in the third person - corrected the reporter: "Giorgio Chinaglia is not a teammate of Pele, Pele is a teammate of Giorgio Chinaglia."
After hanging up his boots, Chinaglia pursued careers in politics and business.
He was Lazio president and New York Cosmos owner in the mid-1980s, but his ventures were frequently marred by criminal investigations.
In the mid-2000s he returned to Italy in an attempt to take over Foggia, a club then in Serie C, and then his old club Lazio.
But on both occasions the bids were alleged to have been money laundering fronts for the Mafia, and Chinaglia once again fled for America.
He died of a heart attack in 2012, an exile from his homeland.
But Chinaglia remains a legend in Rome and New York, even if he is largely forgotten in the country where he grew up.