Ex-Anglesey to Cardiff airline operator to be wound up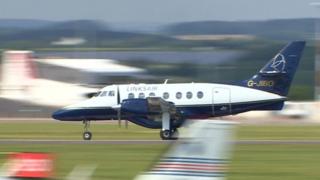 Liquidators have been appointed at a former provider of the Cardiff to Anglesey air route.
LinksAir had its safety licence revoked in October 2015 by the Civil Aviation Authority and the firm used other airlines to run the service until it pulled out in January.
Passengers have tried to get their money back on journeys booked before LinksAir stopped providing the service.
It previously axed a two-month-old loss-making Cardiff to Norwich flight.
Official public records showed the company is being wound up voluntarily.
However, the twice-daily return flights from Cardiff to Anglesey have continued to operate, but under a new provider.