Rise in long-term police psychological sick leave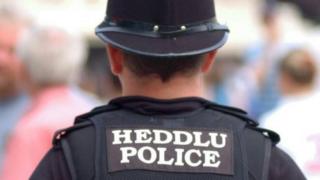 The number of Welsh police officers and staff taking long-term sick leave for psychological reasons has increased by up to 40% over the past five years.
Gwent and South Wales Police both saw a 17% rise, Dyfed-Powys had a 15% increase while North Wales Police had the second highest figures in the UK.
The force saw a 40% rise between 2013/14 and 2014/15.
The UK government said policing was a stressful job and forces must support officers and staff.
The freedom of information request by BBC 5 live's Daily programme found, despite workforces shrinking, the number of employees on long-term psychological sick leave went up from 4,544 in 2010 to 6,129 in 2015 - a rise of 35%.
It also found a steady increase in overall long-term sick leave over the same period.
All four Welsh forces were in the top 15 of those with the biggest increases.
In Gwent, cases rose from 285 to 334, at South Wales Police it went from 522 to 609, Dyfed-Powys saw 237 cases, up from 207 and in north Wales, 235 employees were on long-term sick leave in 2014/15, compared to 168 in 2013/14.
In England and Wales, the overall police workforce has shrunk by more than 17,000, or 12%, since 2010, and there has been a loss of nearly 20,500 support staff and police community support officers (PCSOs).
Simon Newport, chairman of the North Wales Police Federation, said: "Because of budget cuts across other areas - for example, the ambulance service - police are often being asked to go beyond the call of duty, which has an impact on stress levels.
"But there are some positives. Police officers are now more able to report psychological and mental issues than they have been in the past."
Policing Minister Mike Penning said: "Policing, by its very nature, is a stressful and demanding job and it is the responsibility of chief officers - with help from the College of Policing - to ensure that police officers and staff are supported in their work."
He said the government had allocated £10m in 2014 to help emergency services staff through "mental health, physical recuperation and bereavement support".