£35m Rembrandt painting goes on show in Cardiff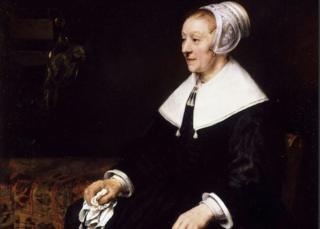 A £35m Rembrandt masterpiece goes on display in Cardiff from Tuesday.
The 17th Century portrait of Catrina Hooghsaet was made the subject of an export ban from the UK government to stop it leaving the country.
But the painting - previously housed in Penrhyn Castle in Bangor, Gwynedd - was sold to a private buyer after the ban was withdrawn.
Now it has been offered to National Museum Wales on loan for three years.
David Anderson, director general of National Museum Wales, said: "The painting came to Wales in the 1860s and is an example, not only of money, but of the cultural wealth generated by the great industrial age in Wales.
"I am delighted it will be made publicly accessible, and deservedly so, so that it can contribute to our understanding of our past and be enjoyed by today's visitors."
Catrina Hooghsaet was a wealthy Amsterdam Christian Mennonite who was married but separated from her husband.
The painting's owner, who has remained anonymous, added: "I am very happy to be able to share the enjoyment of this great painting with the public."
National Museum Wales said it had also received a £10,000 contribution from the previous owners for an educational programme.