Calls to save 'phenomenal' Sandy Bear bereavement service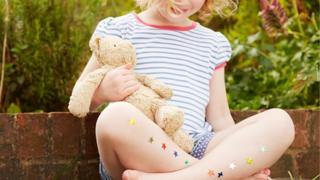 Almost 3,400 people have signed a petition to save a Pembrokeshire-based counselling service for bereaved children.
Sandy Bear is run by Hywel Dda University Health Board and funded by Pembrokeshire council.
But its future is under review after the council said it "may not be possible" to continue the current level of funding.
It said it had to deal with cuts from the Welsh and UK governments.
Nina Evans launched the 3,383-signature petition because the Neyland-based service helped her following the death of her husband in 2011.
She said her family had been struggling to come to terms with the loss, but Sandy Bear set up weekly sessions for her five-year-old son.
'Dark place'
"They made memory pots and books and he took part in lots of activities - all leading to help him understand why daddy had died," she added.
"I would hate to think what dark place he would be in now if he had not been lucky enough to have the support from Sandy Bear."
Lana Lewis, who lost her mum at 14 years old, said the support she received was "phenomenal".
"They worked with my school and my dad to make sure I had the best help possible.
"I made mementos and treasures that I still have today.
"The thought of this help not being available to young kids is sad."
Libby Ryan-Davies, director of mental health and learning disabilities at the health board, said it is reviewing Sandy Bear because of a reduction in funding from Pembrokeshire council.
She said it wants to make sure services it provides "meet the needs of the local community, are safe and are evidence based".
A Pembrokeshire council spokesman said a final decision on continued funding will take into account the number of emotional support services for children and young people that exist in the area.
He added: "Every Pembrokeshire secondary school has access to a school counsellor, and we are developing a new role of emotional and learning support assistants in schools."