Manic Street Preachers to release Wales Euro 2016 song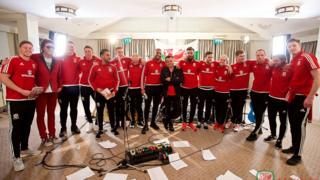 Manic Street Preachers are set to release the official anthem for Wales' appearance at Euro 2016.
Called Together Stronger (C'mon Wales), the song celebrates the team qualifying for a major football championships for the first time in more than 50 years.
The band met up with the squad on Monday to film an accompanying video.
It will be released on 20 May and raise money for the Princes Gate Trust and Tenovus Cancer Care.
Wales manager Chris Coleman said: "It was fantastic to be involved with such an iconic Welsh band.
"Manic Street Preachers have been passionate Welsh football supporters and all the lads enjoyed the experience and joined in."