Macur review: 'No reason' to undermine abuse inquiry findings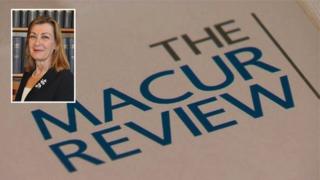 An inquiry that found "no evidence" of historical abuse by establishment figures in former north Wales children's homes has been backed by a review.
Lady Justice Macur published her two-year review into the 2000 Waterhouse inquiry on Thursday.
She said there was "no reason" to undermine its findings.
Welsh Secretary Stephen Crabb said the government welcomed the findings but the abuse "must never be forgotten".
Sir Ronald Waterhouse's inquiry looked into historical child abuse in care in the former Gwynedd and Clwyd council areas between between 1974 and 1996.
It found there had been "appalling mistreatment" of children over 20 years but nothing pointed to abuse by prominent public figures.
However, concerns were raised it had uncovered only a fraction of the abuse.
An independent review was ordered by then-Justice Secretary Chris Grayling in 2012 after former-Tory treasurer Lord McAlpine was wrongly implicated in alleged abuse by BBC Two's Newsnight programme.
At the same time Operation Pallial, an independent National Crime Agency investigation, was charged with looking into new allegations and reviewing the historical police investigations.
In her review, Lady Justice Macur said: "I have found no reason to undermine the conclusions of the tribunal in respect of the nature and scale of the abuse.
"Neither is there evidence of the involvement of nationally prominent individuals in the abuse of children in care in north wales , between 1974 and 1996.
"Consequently, I do not recommend the establishment of a further public or private inquiry or review".
Abuse victim Stephen Messham said he was "very surprised" by her conclusions and called the review a "waste of public money".
Lady Justice Macur said there had been "some reluctance" by the Welsh Office to undertake a public inquiry but this was not because of an attempt to protect individuals.
It was right to wait for prosecutions to finish, the judge added.
She said she was satisfied the Waterhouse terms of reference were "not framed to protect individuals".
Freemasonry was also soundly researched and it was not unreasonable for the Waterhouse inquiry to find there was no further paedophile ring operating.
Lady Justice Macur made several recommendations, including that all correct material be archived in future.
She said all government departments should have an accurate database of the materials they hold.
Speaking in parliament, Mr Crabb explained that parts of the Macur report had been redacted partly because of possible future prosecutions and also because innocent people may have been named.
He said these were "dark and shameful events that are a stain on our nation".
"We are determined to see those guilty of crimes brought to justice", he added.