Rhodri Talfan Davies' concern over appointment of BBC board plan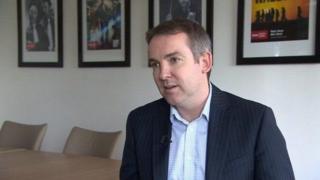 Proposals for the UK government to appoint most members of a new BBC board are a "concern", BBC Cymru Wales' director has said.
Rhodri Talfan Davies said the BBC was "not a state broadcaster and we must never be a state broadcaster".
His comments follow a review which recommended replacing the BBC Trust with a board of directors, half appointed by government ministers.
Mr Davies said the broadcaster must maintain its distance from government.
At a discussion about the review of the BBC Charter organised by Cardiff University's Wales Governance Centre, Mr Davies said: "There is clearly concern at the proposal that the majority of the members of the unitary board might be appointed by the UK government.
"I have a very simple view on this - we are not a state broadcaster and we must never be a state broadcaster.
"And so I think there needs to be a very careful look at that, because I think the trust of the audiences is absolutely essential.
"This is not a board that sits semi-detached from the BBC, this is a board right at the heart of our editorial decision-making, and ensuring that the integrity of that board and its distance from government is clear to everyone I think is really essential."
Mr Davies' comments echo those of the director general Lord Hall, who has said that the BBC was "one of the world's great public service broadcasters - not a state broadcaster."
The BBC's charter is due for renewal at the end of this year.