Northern Lights shine in the night sky over Wales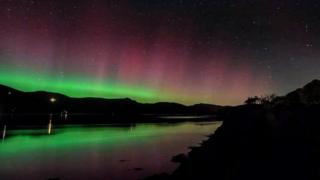 Stargazers across Wales were treated to the spectacular sight of the Aurora Borealis - better known as the Northern Lights - overnight.
The brightly-coloured phenomenon was visible in north and mid Wales as skies across the UK were bathed in light.
It was visible in Scotland and Northern Ireland and as far south as Oxfordshire in England.
Aurora Borealis occurs when electrically-charged particles from the Sun enter the Earth's atmosphere.