Gwynedd lifeguard jailed 50 years for raping girl in US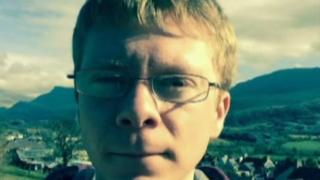 A lifeguard from Gwynedd has been jailed for 50 years in the United States for raping a 10-year-old girl.
Gareth Vincent Hall, 22, from Talysarn, admitted four counts of rape, two of serious sexual offences and one of online sexual corruption of a child.
He was sentenced in Eugene, Oregon, on Tuesday.
North Wales Police has said its investigation into Hall for earlier suspected online offences would continue.
Hall has 30 days to appeal the length of the sentence.
According to the FBI, Hall flew to Oregon last April, hired a car and took the girl to a hotel after contacting her online. Her family learned of the rape after he returned to the UK.
He was arrested at O'Hare Airport in Chicago in May after flying back to the US and has been in custody ever since.
Oregon media reported that the families of both Hall and his victim were in court for the sentencing.
Daily newspaper The Register-Guard reported that Hall's public defender, John Volmert, said the girl implied she was 17 years old and was nearing her 18th birthday.
After travelling to visit her, Hall believed she appeared to be 16 or 17, Mr Volmert added.
But Judge Jay McAlpin said: "I don't think it was an innocent mistake."
Speaking through a Welsh interpreter, Hall apologised and said he would not have travelled to the US had he known her real age.
The girl's grandmother told the court his actions had "decimated (the victim's) family".
After being detained in the US, it emerged Hall had been arrested by North Wales Police in October 2014 "on suspicion of offences committed online" and was bailed.
North Wales Police said devices seized from Hall have not yet been fully examined, but the force could not comment further until they were.
Hall used to work at Arfon Leisure Centre in Caernarfon, where he taught children to swim, but Gwynedd council said it had received no complaints about him.
He was suspended by the council after his initial arrest in north Wales and was sacked in May 2015.
The council said it followed "all relevant child protection procedures".
The five-page statement submitted to the court when Hall pleaded guilty has been published by Oregon media and showed the details of the plea deal between him and prosecutors.
It included: "I know that the following mandatory minimum sentences apply: 25 years.
"Therefore, I understand that I must serve the entire sentence, and will not be eligible for any good time credit, and will not be eligible for any type of temporary release, and will not be eligible for any program that reduces my sentence below the mandatory minimum."
Under the state law in Oregon on serious sex offences against children, Hall knew he was going to be sent to prison for at least 25 years with no prospect of early release.
His defence lawyer had argued he should get a sentence at the lower end of the scale.
But the judge rejected the arguments that Hall did not know how old the girl was and said he would get the sentence he deserved, which was the maximum 50 years in prison.