Dylan Thomas photos copyright fight cost £200,000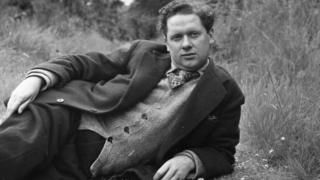 More than £200,000 has been spent by the Welsh government defending claims for copyright infringement over its use of photographs of Dylan Thomas, figures obtained by BBC Wales have shown.
Over the last 18 months, £205,417 was spent defending claims brought by Pablo Star Media Ltd.
The claims relate to two 1930s images of Thomas and his wife Caitlin.
The Welsh government said it was seeking to recoup the costs in its claims.
The images appeared in promotional material published by the government's tourism arm.
'Far less'
Visit Wales used the photos to help promote the 100th anniversary of the poet's birth.
The Welsh government is currently defending cases brought by Pablo Star Media in New York, Dublin and the Netherlands.
A judge in Dublin threw out one of the claims last month, but Pablo Star Media - which claims it owns the copyright - has launched an appeal.
A Welsh government spokesperson said: "We are robustly defending all claims and will not hesitate to seek to recoup our costs if successful".
Pablo Star Media's managing director Haydn Price said: "It is a scandal that they have spent this amount of money defending a valid claim that they could have settled for far less.
"We are confident we own the rights and the Welsh government's conduct is unreasonable."