Prison term is reduced for north Wales drug plotter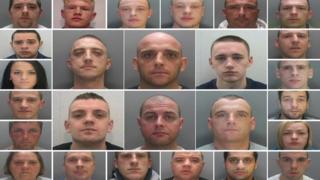 A man jailed over his part in a four-year plot to flood north Wales with cocaine and cannabis has had his prison term reduced.
Ryan John Williams, 35, of Caernarfon, Gwynedd, was jailed for three and a half years after admitting money laundering in February 2015.
But London's Appeal Court said he had a "peripheral part" and cut his term to two years, two months.
Three other men had appeals against their sentences dismissed.
The gang ran a "vast quantity of drugs" from the north west of England into Wales, although detectives only seized around £200,000 worth.
This was described at trial as "just the tip of the iceberg" in terms of the amounts involved.
Williams had a fringe role in the network, said Lord Justice McCombe, which was masterminded by Gavin Thorman, of Caernarfon, who was handed a 12-year term.
Also appealing their sentences were Gavin Hughes, 29, of Tyn Lon, Llandwrog, Dylan Hughes, 31, of Glan Peris, and James Davies, 42, of Cae Mur, both in Caernarfon.
All four claimed their punishments were too tough, but only Williams secured a reduction in his jail term.
Lord Justice McCombe said that Williams had played a peripheral part in the gang.
Dismissing the other three men's appeals, however, he said they were involved in "peddling misery".