Royal Welsh College of Music and Drama students perform at palace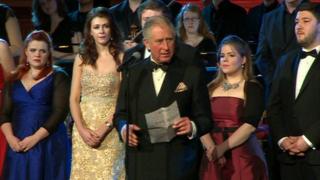 The Prince of Wales has praised students from the Royal Welsh College of Music and Drama (RWCMD) following their performance at Buckingham Palace.
Monday evening's event was to mark five years since RWCMD opened new facilities in Cardiff.
Celebrities including Dame Shirley Bassey, Michael Sheen and Bryn Terfel watched performances by students.
"I hope you now see just why I am proud to be patron of this august institution," said the prince.
"I've done it for 16 years and I can't tell you what a joy it's been every time I've been lucky enough to discover just what talent lurks behind the walls of this great establishment in Cardiff."
Students' performances included extracts from Shakespeare's Henry V and the opera Tosca, while nine-year-old pianist Charlotte Kwok, who is being taught at the college's junior music school, performed Frank Bridge's The Prince.
Dame Shirley Bassey supports two students at the college with scholarships, and told BBC Wales she felt compelled to sponsor their training.
"I started off with nobody supporting me," she said. "There was nothing when I started, there were no schools or college for me.
"I made it, and I wanted to give that back to my hometown, where I came from in the docks of Cardiff."
Dayna Townsend, who is studying for a degree in violin performance, was among the students to play at Buckingham Palace and described it as an "amazing" experience.
RWCMD was ranked top of the UK's training centres for drama in 2015, and has seen the film and TV sector expand in Wales since opening its new building.
Its recent graduates have provided technical expertise on Wales-based productions including Da Vinci's Demons, while performance students have joined national theatre companies and prestigious orchestras.
College principal Hilary Boulding said industry developments had provided new opportunities in Wales, though graduates continued to take their skills around the world.
"The creative industries is a global industry, so we mustn't stop at the border. That's not part of our make-up," she said.
"We attract students from 30 countries to study here, with the best of the Welsh students who apply.
"Many of them will work in Hollywood, Los Angeles, in Europe, Singapore and in Asia when they leave here."