Prince Charles throws Buckingham Palace gala for college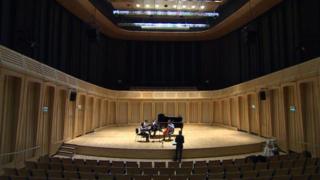 Welsh entertainers including Dame Shirley Bassey are due to attend a gala concert at Buckingham Palace later.
It will mark five years since the Royal Welsh College of Music and Drama opened its £22.5m revamped facilities in Cardiff.
Actors Michael Sheen, Ruth Jones and singer Bryn Terfel have also been invited by Prince Charles, the college's patron.
Performers include nine-year-old pianist Charlotte Kwok.
Charlotte, from Llanharan, is a member of the college's junior conservatoire. She will perform Frank Bridge's The Prince.
The selection of music and drama will also include extracts from Shakespeare's Henry V and Puccini's opera Tosca and the traditional Welsh lullaby Suo Gân.
Hilary Boulding, college principal, said: "It's very important for the college to be seen outside Wales and to showcase itself.
"The Buckingham Palace gala is a fantastic platform for the students ranging from our junior school to our most senior students."
The facilities on North Road include a 450-seat concert hall and a 160-seat theatre named after actor Richard Burton.
'Distinctive work'
"The new buildings have given us a new lease of life," said Ms Boulding. "Students are working in stunning performance and rehearsal facilities which rival the best in the world.
"But they also allow the college to present its work and be a cultural player in south Wales - 70,000 people come to performances a year, which is a tenfold increase on what we were able to do before."
Past students of the college include comedian Rob Brydon, actor Sir Anthony Hopkins and the late screen and stage star Victor Spinetti.
Ms Boulding said the college has in recent years developed much closer links with the National Theatre Wales, the Welsh National Opera and the BBC National Orchestra of Wales.
"We're also commissioning new work in drama and taking it from Wales to London to provide a new platform for Welsh writers and to enable us to take our students into London with distinctive work."