NHS record defended by First Minister Carwyn Jones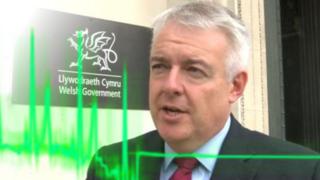 The NHS in Wales has remained "robust and resilient" over the past five years, the first minister has said.
Carwyn Jones told the NHS Confederation conference that critics including the UK government were seeking to "run [the Welsh] down for their own advantage."
He also accused ministers in London of embarking on "dizzying" and "baffling" health reforms.
Opposition parties said Mr Jones was "in denial" and unable to defend an "indefensible" performance on the NHS.
Labour's record on the health service in Wales is set to be a key battleground in the run up to the assembly elections in May.
Later, during Prime Minister's Questions, David Cameron highlighted figures showing NHS patients in Wales wait longer for treatment and diagnosis than patients in England for most of the main categories.
Average waits for hip operations were 197 days in Wales compared to 75 days in England, he told Labour leader Jeremy Corbyn.
"Labour are running Wales, he's responsible for Labour," Mr Cameron said.
"Pick up the phone, tell them to stop cutting our NHS."
But, in his speech, the first minister claimed the vast majority of health professionals would be "very happy to be on our side [of the border in Wales]", pointing to the dispute over junior doctors' contracts in England which had led to strike action.
However, opposition parties have frequently criticised the Welsh government for a "catalogue of failings" - which has seen average waiting times, some key treatments and diagnosis lengthen significantly since the last assembly election.
'Under pressure'
The Welsh Conservatives' Shadow Health Minister, Darren Millar, said the first minister's speech would do nothing to address "systemic problems" in the Welsh NHS.
"Under Carwyn Jones's leadership, waiting lists have doubled; hospitals have been closed and downgraded; and NHS budgets have suffered record-breaking cuts.
"Frontline staff in the Welsh NHS work tirelessly to deliver the very best standards of care for Welsh patients, and they want to hear what action the First Minister is taking to put things right.
"Instead, he appears to be in complete denial."
Plaid Cymru health spokeswoman Elin Jones said it was no surprise that Mr Jones felt "under pressure" on the NHS, but he could not "defend the indefensible".
"The facts speak for themselves: Labour has failed to meet its own less ambitious targets, and has failed to manage and plan the health service and its workforce."
Meanwhile a survey by the NHS Confederation, published to coincide with the conference in Cardiff, suggests the highest proportion of people in Wales think "a lack of funding" is the biggest challenge facing the Welsh NHS, followed by caring for an elderly population.
The online survey of 1,049 adults carried out by YouGov also asked about the public's priorities for the health service in Wales.
When asked to think about being treated in hospital, the top three priorities chosen by respondents were quality of care, shorter waiting times and care, dignity and respect given to patients.
When asked about their most recent experience of NHS Wales, 37% said it was very positive - up from 29% the previous year.
Meanwhile, 29% said their experience was fairly positive and 13% said average.
Helen Birtwhistle, director of external affairs for the NHS Confederation, said: "As with other health systems, the NHS in Wales is currently facing a number of challenges, including finance, public health, increased demand, the joining-up of health and other services and the workforce.
"The results of this survey show that people understand these issues and recognise that, while finances are important, there are a range of issues that we must address."