Awareness of organ donation change in Wales rises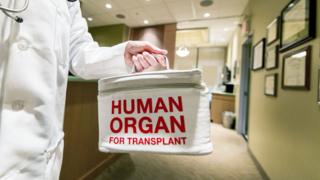 More people are aware of the changes to organ donation in Wales and more people are talking about their wishes with their families, figures have shown.
Wales moved to a presumed consent system in December, where people are deemed to be donors unless they actively opt out of the system.
Figures from the Welsh government showed 74% of people knew about the move, compared to 69% in December.
It wants people to discuss their choices in light of the new regime.
To promote this, the government is launching the next phase of its public information campaign, entitled It's Time to Talk, so families are clear about relatives' wishes.
Health Minister Mark Drakeford said: "Last year, 14 people died while waiting for an organ. We hope the change to the organ donation system in Wales will increase organ donation rates."