China denies its role in Tata job cuts in Port Talbot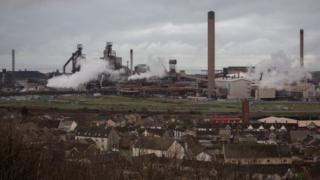 China has hit back at accusations it is aggressively dumping subsidised steel on European markets, leading to 750 job losses at Port Talbot's steelworks.
Politicians and union leaders have blamed a flood of cheap imports for Tata's latest round of cuts.
But the Chinese Embassy said "slow recovery of the world economy" and weak demand were to blame.
MP for Aberavon, Stephen Kinnock, said it was "crystal clear" the Chinese industry operates by under-cutting.
He accused the Conservative government of failing to ask the European Commission to deploy anti-dumping measures against China.
Steel capacity 'cut'
In a statement, the embassy said it was a "groundless accusation" that China had pursued a "pure aggressive strategy aimed at decimating steel production in the UK".
The reality, said the embassy, was that China had "curbed" growth in its production and some capacity had already been cut.
"China has always advocated solving steel trade disputes through dialogue and negotiations and has encouraged cooperation among different countries to achieve win-win results," it added.