Call to publish Macur Review into child abuse inquiry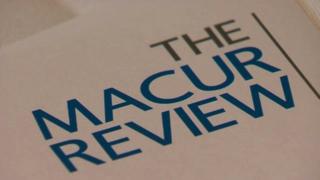 The NSPCC has joined growing calls for the publication of a review into an inquiry into historical child abuse at former children's homes in north Wales to be published.
Lady Justice Macur began taking evidence in 2013 about the Waterhouse inquiry which was published in 2000.
It looked into the abuse of children in care between 1974 and 1996.
The Macur Review was submitted to the UK government last month. A minister has said redactions may be required.
The review, commissioned in 2012, has examined whether any child abuse allegations falling within the inquiry's terms of reference were not investigated.
'Transparency'
An NSPCC Cymru spokesperson said: "It is very disappointing that it has already taken more than four years to get to this stage and that there is still no sign of an end to this."
Dwyfor Meirionnydd MP Liz Saville Roberts said it was vital that the "review into the competency of the Waterhouse child abuse inquiry is made available for public scrutiny and in the interests of transparency".
Wrexham MP Ian Lucas called for a "clear timetable" on the publication of the findings in December.
And Cynon Valley MP Ann Clwyd raised the issue again in Parliament last week.
In response, Justice Minister Caroline Dinenage said: "The report needs to be considered by law enforcement agencies and the government before it can be published.
"This includes considering whether redactions need to be made.
"Lady Justice Macur has recommended that certain material should be considered for redaction.
"The work is proceeding at pace with a view to publication as soon as possible."