Newport and Swansea 'low wage, high welfare' cities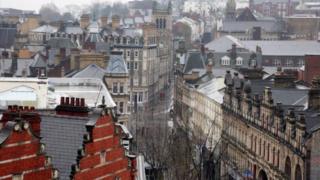 Newport and Swansea are among the cities which have "low wage, high welfare" economies, according to a think tank.
Centre for Cities said despite one million jobs being created in UK cities from 2010 to 2014, wages fell by 5%.
Of the 62 cities analysed, Swansea had the fourth highest spend on welfare.
In 2014, Newport's average weekly wage was £441, with £3,798 spent on welfare per person per year. Swansea's figures were £448 and £3,976 respectively.
Across Great Britain, the average weekly wage was £504 per week with an annual welfare spend of £3,358.
Cardiff's average weekly wage was £482, ranked 23rd out of 62, with an annual welfare spend of £3,222.
The report comes as Chancellor George Osborne continues to encourage city regions.
Ten local authorities in south east Wales have submitted a joint proposal for a city deal for the Cardiff area.
Welsh ministers have already pledged £580m towards the plan, with councils contributing £120m.
Combined with £580m from the Treasury, the deal would be worth almost £1.3bn.
Social economist Dr Mark Lang has been critical of the drive towards city region policies in the past and said, in reality, prosperity in some cities does not trickle down to others.
He said investment should instead be focused on areas like the valleys, to make sure wealth spreads.
Report author Paul Swinney said: "For Cardiff, I think the future looks bright, we see that it's got a strong economy, lots of high-skilled people live and work there... but I think the challenge for Newport and Swansea is that they tend to have low-skilled economies, they've been hit fairly hard by the downturn in public spending."