Recorded crime in Wales rises by 4%, figures show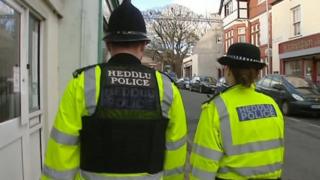 Recorded crime in Wales has risen by 4% over the past year, figures from the Office for National Statistics (ONS) have shown.
There were almost 184,000 recorded incidents of crime including 30 murders for the year ending September 2015.
Violent crimes were up 23%, sexual offences up 19% but theft offences were down 6%.
Drugs offences, vehicle offences and shoplifting were all down.
Overall, recorded incidents of crime were up for all four Welsh forces but down for British Transport Police.
ONS said improvements in recording crime may have affected the figures.
Some of the crimes reported to each police force for the year ending September 2015