North Wales crime chief payout sparks inquiry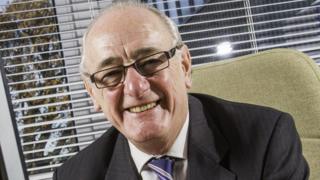 A decision to make a voluntary redundancy payment to the north Wales police and crime commissioner's chief executive is to be investigated.
Anna Humphreys requested redundancy after deciding she will not return from maternity leave next month.
A complaint has now been made to the chairman of the police's crime panel.
The commissioner, Winston Roddick, has defended the move to appoint a new chief executive to replace Ms Humphreys.
Glenys Diskin, who chairs the North Wales Police and Crime Panel, said she was emailed a complaint about the issue, and has passed it to the chief legal officer at Conwy council.
"It will be properly looked at and then referred to the panel," she said.
It is understood part of the complaint questions how a new chief executive can be appointed, if the previous post holder has been made redundant.
Decision
However, minutes of last month's police and crime panel note the position is a statutory one laid out in legislation.
The minutes stated it was "the individual, not the post that was being made redundant" in the case of Ms Humphreys.
A statement from Mr Roddick read: "The decision I've come to, to appoint a chief executive, is perfectly lawful and I have explained the reasons for it to the Police and Crime Panel in December, and that explanation is still available on the website of the police and crime panel.
"Now that someone has complained to the Police and Crime Panel it would be inappropriate for me to make any further comment it until the matter is raised with me by the panel."
Mr Roddick's post is up for election in May, and Labour candidate hopeful David Taylor urged the commissioner to halt the search for a new chief executive.
"The commissioner should not be pushing through the appointment of a permanent chief executive so close to election in light of these allegations," he said.