Gary Lineker and Welsh wife Danielle divorce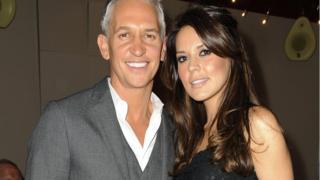 Match of the Day host Gary Lineker and his Cardiff-born wife have filed for divorce.
The ex-England footballer, 55, and Danielle Bux, 36, have decided to end their six-year marriage and a decree nisi will be issued.
The ex-model and mother-of-one, from Ely, wed the presenter in Italy in 2009.
Lineker confirmed the news on Twitter on Wednesday.
He said: "Thank you all for your kind words. @DanielleBux and I had many wonderful years together.
"We remain very close and the greatest of friends."
Ms Bux tweeted she will "cherish" the years the pair had together and they remained "best" friends.
A spokesman for the couple also confirmed to The Sun: "Gary and Danielle have decided to end their marriage."
He added: "They remain the greatest of friends and wish each other every happiness."
The paper quoted a source as saying the break-up was "friendly" and the pair filled out forms on a UK government website together.
The online site costs around £400, meaning the couple saved tens of thousands of pounds in legal fees.
When the couple married in Ravello they had been dating for two years.
Lineker had previously been married to Michelle, mother of his four sons, for 20 years.
They divorced in 2006.