Police seize 56 weapons from children in north Wales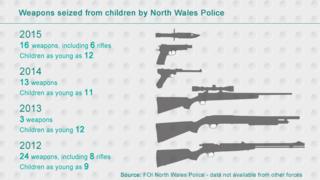 Police have seized 56 weapons from children as young as nine in north Wales since 2012, according to figures.
A total of 1,465 weapons, including hand guns, shotguns, rifles and tear gas, have been confiscated from adults during the same period.
Six rifles were seized from six youngsters in 2015, compared with the individual seizures of 150 shotguns from adults.
North Wales Police released the figures after a Freedom of Information request.
The data was not available from Wales' other forces.
The results also showed a BB gun was taken off a pupil at a school in north Wales in 2015.