'Merv the Swerve' makes national biography dictionary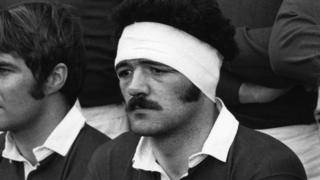 A Wales rugby legend, two Welsh language campaigners and an artist are among the 222 new entries to the Oxford Dictionary of National Biography.
Former Wales number eight Mervyn "Merv the Swerve" Davies, husband and wife Eileen and Trefor Beasley and Evelyn Williams have been included.
Also included is politician and barrister Lord Emlyn Hooson, who defended Moors murderer Ian Brady.
The update adds people who died in 2012 and had influenced British life.
Swansea-born Davies, who was instantly recognisable on the pitch from his thick moustache and white headband, won 38 caps for Wales and went on two victorious British and Irish Lions tours in 1971 and 1974.
But he had his rugby career cut short in 1976 after he suffered a brain haemorrhage while playing for Swansea in a Welsh Cup semi-final.
Teacher and Welsh language campaigner, Eileen Beasley of Carmarthenshire, met her husband Trefor through Plaid Cymru.
In the 1950s the couple repeatedly refused to pay council bills issued only in English, until in 1960, Llanelli rural district council agreed they should be bilingual.
Their campaign was championed by Plaid Cymru's then leader Saunders Lewis as a significant example of non-violent civil disobedience.
Barrister Lord Hooson was elected Liberal MP for Montgomeryshire in 1962. In the 1970s he became an active promoter of Welsh devolution, a stand that led to his defeat at the 1979 election.
Painter Evelyn Williams, of Denbigh, was evacuated from London to north Wales during World War Two, and memories of her stay there have been said to have influenced some of her work.
Examples of her artwork are kept by the Contemporary Art Society for Wales and National Museum Wales.
Other additions to the book this year, include astronomer and broadcaster Sir Patrick Moore, and animator Gerry Anderson, who invented the puppet adventure series' Thunderbirds, Stingray and Captain Scarlet.
It now includes 59,879 entries from 14,188 contributors.