Wales' role in Royal Mail's 500 year history remembered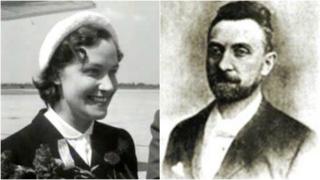 Royal Mail has marked its 500 year anniversary by releasing a gallery of 500 events, people and objects that tell the history of the service.
The archive remembers key moments in its history, from the creation of the Penny Black stamp to the introduction of the iconic "pillar" post boxes.
Welsh individuals remembered include mail order business entrepreneur Sir Pryce Pryce-Jones and singer Kathleen Ferrier.
We take a look at its history in Wales.
Pioneers
Sir Pryce Pryce-Jones of Llanllwchaearn near Newtown, Powys, established the world's first mail order business in 1861.
He went from a shop assistant to a multi-millionaire responsible for 4,000 workers and 250,000 customers and even supplied Queen Victoria with her underwear.
Post Office reforms in 1837 and the arrival of the railways in the town made it possible to deliver catalogues across the country so people could choose items to be delivered to their homes.
Also remembered in the gallery is classical and folk singer Kathleen Ferrier, whose family had links to Pembrokeshire.
The famous contralto worked as a trainee at the General Post Office (GPO) telephone exchange in Blackburn, Lancashire, from August 1926 and later transferred to Blackpool.
While there she auditioned for the GPO's then-new "speaking clock" service.
Ferrier was married in 1935 which ended her employment - at the time the GPO did not employ married women.
Wales' firsts
In 1785 the service's first mail coach route to Wales was launched between London and Holyhead, on Anglesey.
Later, 1821 saw the introduction of steam-driven packet boats from Holyhead. The ships, called Meteor and Lighting, transported mail across the world.
Wales' first post box was installed on Picton Road in Neyland, Pembrokeshire, in 1957 and remains the oldest working pillar box in Wales.
Pneumatic pipes were installed in 1900 to carry telegrams between the head post office in Cardiff and subsidiary post offices.
The pipes were laid underground in pairs, one for each direction of transmission, and propelled the telegrams by compressed air generated by a steam engine.
On 20 July 1962, the world's first hovercraft mail service travelled from Rhyl, Denbighshire, to Wallasey, Wirral. Strong winds and continued engine failure meant it made its last trip was on 14 September 1962.