Arriva Trains Wales drivers to strike on 4 January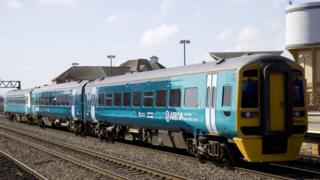 A 24-hour strike by Arriva Trains Wales drivers, as part of a dispute over pay and conditions, will go ahead resulting in all services being cancelled.
Members of the Aslef union will walk out on 4 January, the day many return to work after the Christmas break.
Union members have been refusing to work overtime for the last three days.
The union said a pay deal had been accepted, but a dispute remained with changes to terms and conditions. Arriva said it "regrets" the disruption.
An Arriva spokesman said the strike could also result in some early morning disruption on 5 January.
He advised customers to make alternative travel arrangements for Monday and to check travel plans for Tuesday.
A planned strike was called off in November.