Wales weather: Flood-hit areas braced for rain as travel chaos continues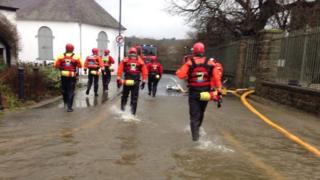 Wales is bracing itself for more rain after flooding in north Wales led to homes being evacuated and road chaos.
Drivers across north Wales continue to face disruption, and restrictions are in place on the M48 Severn Bridge due to strong winds.
One flood warning is in place in Denbighshire and more than a dozens flood alerts have been issued across Wales.
Over the weekend the A55 dual carriageway was shut for hours.
Drivers were forced to abandon cars homes on Anglesey and Gwynedd were evacuated.
Travel
Check if this is affecting your journey
The Welsh government said flood risk management was a key priority.
The Met Office said more rain was expected this afternoon and overnight, which could be heavy at times and is expected to last until Wednesday.
Hayley Hammond took these pictures of flooding at her mother's house on the Glanrafon Estate in Bontnewydd, Gwynedd.
She said: "The water came in really fast and was up to her knees after a couple of minutes.
"The chest freezer in the garage was floating. The kids' Christmas toys were ruined."