UK 'failure' over refugee numbers, Archbishop of Wales says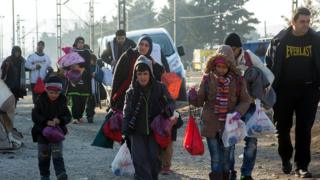 Rows about the number of refugees allowed into the UK shows a lack of humanity, the Archbishop of Wales has said in his Christmas sermon.
Dr Barry Morgan claimed Britain had lost its sense of proportion in relation to the crisis - as people flee Syria and Afghanistan and make dangerous journeys across Europe.
He believes the UK taking 20,000 over five years shows a lack of imagination.
He wants politicians to put themselves in the shoes of others.
"The debate seems to be centred on how many refugees we should accept," he said at Llandaff Cathedral on Christmas Day.
"We forget to ask, or perhaps we choose to forget, why there are so many refugees in the first place.
'Failure of imagination'
"As one Somali poet puts it, 'why does a mother put her children at risk in a flimsy dinghy on the open sea? It is because she believes the sea is safer than the land'.
"These are people fleeing persecution and death in Syria and Afghanistan where British involvement is certainly in part responsible for the crisis.
"Meanwhile, Jordan and Lebanon have four million people in refugee camps and we quibble about 20,000. Is not that a failure of imagination on our part?
"And where is our sense of proportion? Five hundred million people live in the European Union - only 350,000 refugees have fled - less than a tenth of 1% of the total population of Europe."
First Minister Carwyn Jones has previously suggested between 500 and 600 refugees could be settled in Wales over the next five years, based on the UK taking 10,000.
With up to 20,000 refugees now expected, Wales' share is likely to be around 1,000.