Abersychan airgun road rage attacker Lewis Sims jailed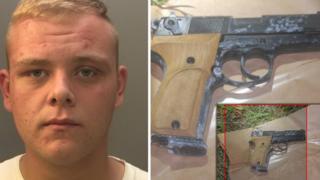 A teenager who pointed an airgun at a couple during a road rage attack has been jailed.
Lewis Sims, 19, of Abersychan, confronted Gareth Oram and his partner in their car in Torfaen while their children "screamed hysterically".
He threatened to kill Mr Oram in what was called "an absolutely stupid act".
At Newport Crown Court on Wednesday Judge Philip Richards said he hoped the 12-month sentence would stop others from doing the same thing.
The confrontation happened on 23 September after Mr Oram approached Sims and accused him of driving recklessly in Talywain, Torfaen.
A "scuffle" broke out and the pair parted.
Later that day, Sims was driving with a friend when he spotted Mr Oram's car stopped at traffic lights in Abersychan.
He got out of the car, carrying the airgun, leaned inside the window and threatened to kill him and his partner Olivia McDonough.
Mr Oram tried to wrestle the weapon from him, but Sims walked away when he saw the children.
Judge Richards said: "This was a very serious act on your part to take a gun to a public area, as this was, in this village, and to hold a gun so that it might appear to anyone to be able to be fired… especially in the presence of children."
He said what happened was "an absolutely stupid act".
In a statement read to the court, Mr Oram said: "I honestly thought he was going to kill me and my children. I'm shocked he felt able to carry a gun in a public area."
DC Mike Preston of Gwent Police said; "Sims's behaviour was threatening and aggressive and he had complete disregard for the fear he could cause by his actions."