Pensioner's care at Wrexham hospital went 'drastically wrong'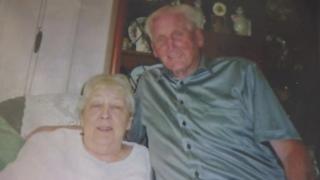 The family of a pensioner who died at a north Wales hospital said they were told something had gone "drastically wrong", an inquest has heard.
Alan Walker, 81, from Leeswood, near Mold in Flintshire, died at Wrexham Maelor Hospital in January 2014 after being admitted with an infected wound.
In a statement, Mr Walker's widow said doctors said food had entered his blood stream, and he then had a heart attack.
His family called in police to investigate the death.
The hearing was told Mr Walker was recovering from an operation for cancer and had been admitted with a skin infection.
Despite initially being seriously ill, he had recovered and was expected to be released.
Toxic shock
But on 22 January, family members were called back to the hospital after Mr Walker's condition deteriorated, following problems with a nasal gastric tube.
Mr Walker's daughter, Olive Warren, said in a statement the doctor in charge of her father's care, Dr Peter Drew, said something had gone "drastically" wrong and he would "get to the bottom of it."
The pensioner's granddaughter, Sarah Hallam, said she questioned Dr Drew about whether there had been staff negligence and she said he replied either "sadly yes or unfortunately yes".
A post-mortem examination found traces of food from a feeding tube had entered an intravenous line, and that Mr Walker had "most likely" died as a result of toxic shock.
The inquest heard how the connection between the pump and the nasal-gastric tube had come apart twice that afternoon and had been taped to secure it.
But Sister Joanna Kirkham, who was overseeing Mr Walker's care, said when she reconnected the tube there was no cannula in his arm.
Staff nurse Carol Hughes told the hearing she was told by a dietician to arrange a phosphate infusion, which was to last 12 hours, and that was connected to his arm.
But when asked by the coroner if she had any idea how the feeding tube came to be connected to the intravenous drip she, along with Sister Kirkham and health care workers Lorraine Pugh and Julie Roberts, who were also on duty, replied: "No".
In statements read during the hearing, Mr Walker's family said he was a fit man who enjoyed gardening and regularly did 50 press-ups a day.
The inquest is due to continue on Friday.