700% rise in 'legal highs' 999 calls to Welsh Ambulance Service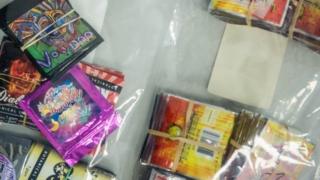 The number of 999 calls made relating to so-called legal highs has increased by more than 700%, figures from the Welsh Ambulance Service show.
It received 222 calls in the 12 months to September, up from 31 two years ago.
Under current drugs laws, new psycho-active substances are not illegal.
But the UK government wants to ban the production, distribution, sale and supply of new psycho-active substances (NPS), which drug agencies oppose.
"It is a worrying concern," said Chris Moore clinical support lead for the Welsh Ambulance Service.
"NPS are certainly more widely available than they've ever been before and that's probably why there's a reflection in the numbers that we're recording on our systems."
He added: "The number of calls is on the increase but in terms of the proportion of calls it's a tiny amount - we're talking about less than a quarter of a percent of our total call volume.
"But you could argue that those calls would come in generally during the night time economy when we do tend to be busy so it may have more of an impact on us that other overdose type calls.
"These calls can be more challenging because we don't know what the patient is going to be like they could be aggressive they could be passive they might not be on scene when we get there or be completely erratic and unmanageable."
But Dan Rowley from Gwent Drug and Alcohol Service in Newport believes a ban on new psycho-active substances is the wrong move.
He said: "If there was one thing that a ban would do especially on new psycho-active substances is it would put some sort of barrier between young people - where most of the concern lies - and the internet where they're most widely available.
"So theoretically there's no minimum age where you're allowed to buy products from the internet you can use a debit card you can use PayPal.
"I think I had my first debit card when I was about 11 or 12 so that's the worry for most people."