Wales economy stays bottom of UK's GVA table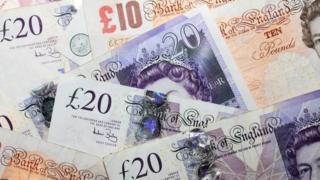 Wales is once again at the bottom of a UK table measuring the strength of the economy.
The Office for National Statistics (ONS) has published gross value added (GVA) figures for 2014.
They measure how much money is generated through goods produced and services delivered.
The figures show not only that less is produced for every person working in Wales but also the economy has grown less than the UK average.
The regional breakdown shows:
London had the highest GVA per head at £42,666, while Wales had the lowest at £17,573.
The ONS figures show that on average every person in the UK generates £24,616 per head, an increase of 4.6% on 2013 but in Wales the average has risen by only 2.4% on the previous year.
Wales punches well below its weight. With 5% of the UK population it produces only 3.4% of the value of the UK economy.
When the GVA figures are broken down to regions within Wales it shows that in west Wales and the valleys £15,745 was produced per head in 2014.
When we focus on smaller geographical areas the figures show that in the Gwent Valleys only £13,479 is produced per head, while the lowest is for Anglesey at £13,162.
This is not a measure of wealth and does not mean that people living in an area are earning more - just generating more money.
It also measures where the money is produced. One reason why Anglesey and Gwent Valleys are low is because so many people commute out of the area to work, while on Anglesey there is a higher proportion of retired people.
The GVA for Scotland is £23,102 per head and Northern Ireland is £18,682.
Dr Jonathan Deacon, director of the University of South Wales' Centre for Research in Entrepreneurship said Wales had to accept "the non conformists and the slightly edgy" if it was to develop its creative economy.
"The most successful places around the world which have attracted talented people tend to be based in communities which are vibrant, they are multicultural and accepting of difference," he said.
Dr Deacon said government and agencies could be too bland and controlling to allow that to flourish.
What do GVA figures tell us?
It is a measure of how much money has been generated by people making or doing things - from making car engines to cutting hair, to doing people's accounts.
It is an indicator of how much the Welsh economy has grown or changed. The figures provide analysis down to local authority level.
It also enables us to compare the economic performance of different areas and communities across the UK and within Wales.
It is calculated where people work. So for example because many thousands commute from the Gwent Valleys to Cardiff to work, that will underestimate what people living in Gwent Valleys generate, and over-estimate what people in Cardiff produce.
What do they not say?
It does not tell us where the wealth ends up or who is richer. So for example when Cardiff has high levels of GVA it does not mean everyone is richer.
Gross Domestic Household Income is a better measure of how wealthy or not people are as it also includes benefits and tax credits.
Where were we last time?
The figures released a year ago showed Wales at the bottom of the pack, compared with the other nations and regions of the UK. However we had the largest percentage growth, but from a low base.
We were in effect running faster but not catching up the rest of the UK.
Cardiff has come bottom of a table of the largest cities in the UK in terms of the strength of its economy.
The ONS has gathered statistics on their economic growth.
Glasgow comes top, growing at 7% in a year, above London, but Cardiff has the lowest level of growth at less than 1% ( 0.9%).