Army 'blasé' over risk, SAS deaths' lawyer tells MPs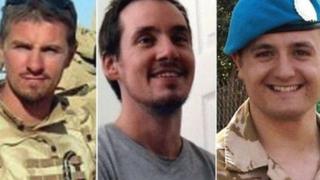 The Army has a "reckless attitude" towards safety, says a lawyer involved in the case of soldiers who died on a Brecon Beacons' SAS selection exercise.
Hilary Meredith told an inquiry being held by MPs into Ministry of Defence training that there was a "blasé attitude" to losses and injury.
L/Cpl Edward Maher, L/Cpl Craig Roberts and Cpl James Dunsby died as a result of neglect on a 16-mile march in 2013.
The MoD has said improvements have been made and more may follow.
But giving evidence to the defence sub-committee, Ms Meredith said: "There's still a culture of the old school, 'Well you joined up so you accept the risk and that's it', which I think is acceptable maybe on the battlefield, but in training, that's not acceptable."
"Where there is a complete reckless disregard for life, the MoD should be no different institution than anybody else and they should be subject to the Corporate Manslaughter act."
MPs are looking into whether or not the 125 military deaths in the past 15 years "indicate any systemic failings in the policies and practices of the MoD and the armed forces".
Ms Meredith described the Brecon Beacons case as "shocking".
She added: "I think there is a blasé attitude to attrition rates, particularly in training. And I think that it has to change, the culture has to change, and there has to be a better safety record in training."
Fellow lawyer Philippa Tuckman told the inquiry that "trench foot" was an injury that is still around even though it is avoidable.
She said cold conditions on the Beacons meant quite a small incidence of negligence could result in a minor injury "which can stop your career in its tracks".
The MoD said it aimed to ensure that all deaths "are properly investigated, lessons identified and acted upon".