Eisteddfod to replace pink pavilion with Evolution pavilion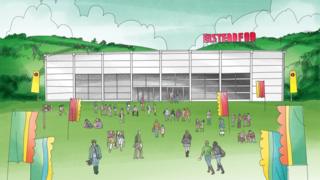 The National Eisteddfod's iconic pink pavilion is to be replaced from next year.
The new structure, called Evolution, will be unveiled at the 2016 event in Abergavenny, Monmouthshire.
Eisteddfod chief executive Elfed Roberts said it was "time to move on" after 10 years of the pink pavilion.
"The Pink Pavilion was a striking building and gave us a unique promotional opportunity... but it was also very frustrating," he said.
"The structural poles obscured the view from a large number of seats, and external noise was also a problem during competitions.
"The new building is a much sturdier structure and will suit our needs far better."
Meanwhile last year's Eisteddfod in Meifod, Powys, left a surplus of almost £55,000.