Welsh broadcaster Sian Pari Huws dies aged 55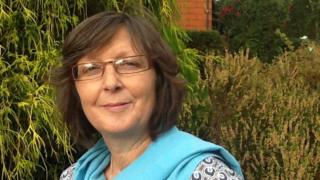 Welsh radio and television broadcaster Sian Pari Huws has died, aged 55.
In a career spanning four decades, she was a former presenter of Radio Wales' Good Morning and Good Evening Wales programmes, as well making regular appearances on Radio Three.
Despite battling cancer, she continued to work, with her last programme on the BBC National Orchestra of Wales' tour of Patagonia airing in November.
She leaves her partner Geraint, mother Eira, and brothers Alun and Geraint.
BBC Wales director Rhodri Talfan Davies said: "Sian's passion for Wales, its people and its rich culture shone through her work. A journalist never afraid to cause trouble but a champion too - for our arts, for our language.
"We'll miss her warmth, her humour and her endless curiosity. Our thoughts and deepest sympathies are of course with her family today."
Sian Gwynedd, the head of Welsh language programmes and services for BBC Wales, added: "I believe that it's for the quality of her journalism that she will be remembered primarily.
"She was a bold and strong interviewer, and she was just as comfortable interviewing politicians as she was interviewing people on the street in Bangor.
"She won the respect of the production teams she worked with and they will have very fond memories of her."
Regarded as one of Wales' most trusted voices, she presented the annual English language coverage of the National Eisteddfod for Radio Wales.
She also fronted Cardiff Singer of the World programmes and other major musical events on Radio Cymru,
Raised in a Welsh-speaking family on the Wirral, she later went to university in Aberystwyth before joining BBC Wales as a journalist in Cardiff in the 1980s.
During the 1990s she was the voice of both Good Morning and Good Evening Wales, and worked for a string of media outlets in Wales, as a narrator, presenter, producer and trainer.
The daughter of a sea captain, the sea played a large part in her life and she was an accomplished sailor. She presented S4C series Hanes Cymru a'r Môr charting Wales' maritime history.