Swansea £30,000 'police raid theft' jury retires for verdicts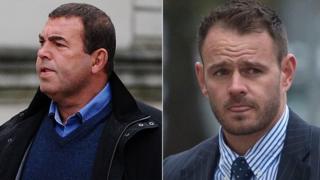 A jury has retired to consider verdicts in the trial of a detective and his former colleague who are accused of stealing £30,000 in a police raid.
Det Con Michael Stokes, 35, from Glynneath, and Stephen Phillips, 47, of Swansea, deny taking cash found in a safe in Swansea in 2011.
The jury has already been directed to find a third officer not guilty of theft.
The trial has been held at Cardiff Crown Court.
'Only joking'
The hearing, which began at the beginning of the month, was told the cash was taken during or after houses were searched four years ago.
No action was taken against the occupants, so a cheque was written for Joedyn Luben, but he complained that the amount was less than that seized.
Giving evidence, Mr Phillips, a former detective sergeant, denied he and a colleague took the cash when they were counting it.
And Mr Stokes told jurors he was only joking when he told a colleague he had taken money.