Newport rough sleeping ban rejected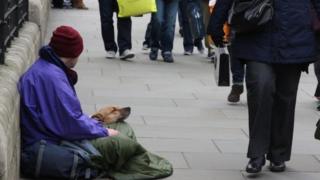 Plans to ban people from sleeping rough in Newport city centre have been dropped.
City councillors voted to bring in a special order to tackle anti-social behaviour.
But a restriction on rough sleeping was dropped and a blanket ban on begging was also amended.
It was changed to "no person shall beg in a manner which is aggressive or intimidating, or which harasses members of the public".
Campaigners have welcomed the rethink.
The council held a consultation, saying the issue was among the most frequent concerns reported to Gwent Police and the fire service.
Bob Poole, cabinet member for regulatory functions, told Tuesday night's full council meeting: "A new public space protection order (PSPO) has the scope and potential to deliver something very positive for the city.
"I'm also mindful of the importance of striking the right balance between protecting the public and respecting civil liberties and freedom of expression and movement."
'Misguided'
But the Conservative opposition argued the ban should go ahead with leader Matthew Evans adding: "We're not a third world country and this is not the 18th Century.
"Nobody should be sleeping on the streets or begging on the streets of Newport or anywhere else in the UK."
Under the new PSPO, persistently approaching people to persuade them to subscribe to a service or to make charitable donations will be blocked.
Dogs will have to be kept in leads of no more than 1.5m (59in) in length.
A ban on consumption of alcohol outside of areas covered by licensing laws has also been agreed.
Human rights organisation Liberty, which criticised previous proposals, welcomed the change of heart.
Legal officer Rosie Brighouse said: "It's shocking that similar proposals to use PSPOs to criminalise the poorest in society continue to surface up and down the country.
"We hope to see more authorities follow Newport's example and backtrack on their misguided plans."
The PSPO is expected to come into force in the new year.