'Islam is demonic' graffiti sprayed on Newport mosque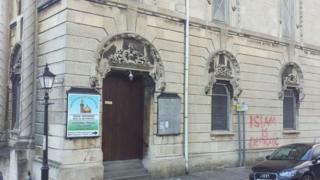 Two mosques in Newport have been targeted with anti-Islamic graffiti.
"Islam is demonic" was sprayed on the walls of the Islamic Society of Wales Mosque, Victoria Road and Jamie Mosque on Stow Hill was also vandalised.
Mubarak Ali, secretary of the Victoria Road mosque, said the congregations were "disgusted by this wicked behaviour".
Gwent Police is investigating.