Caparo, Wrexham: 79 jobs safeguarded at steel site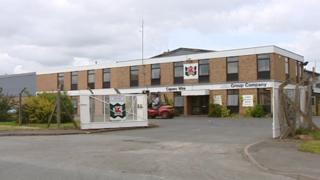 A steel wire plant in Wrexham has been sold, safeguarding 79 job, say administrators.
The Caparo Wire site was part of the steel group that folded in October, risking over 400 posts across Britain.
The Wrexham plant had been sold to the business investment firm Rcapital, as part of a management-led deal.
Another Welsh Caparo site at Tredegar, Blaenau Gwent, saw 24 jobs go when the firm collapsed and the steel tube factory was closed.
Rcapital, which specialises in turning around failed firms, said the Wrexham company had been a "victim of wider problems in the Caparo group".
"We are backing a management team that has been pivotal in stabilising the business in recent weeks and are confident that with ongoing stakeholder support we will create a profitable and sustainable business for the future," said Rcapital chief executive, Jamie Constable.