Ref Nigel Owens is Stonewall's sportsperson of decade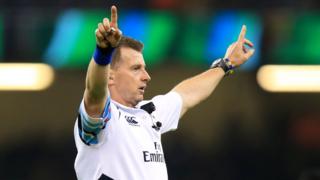 Welsh referee Nigel Owens has been named sportsperson of the decade by sexual equality charity Stonewall.
Its 10th awards in London honoured individuals and organisations that have made "outstanding contributions" to the lives of lesbian, gay, bisexual and transgender people.
Owens, 44, tweeted that he was "truly humbled and honoured" by the award.
He refereed the Rugby World Cup final, won by New Zealand 34-17 over Australia at Twickenham on Saturday.
His next appointment is a more low-key affair when he officiates a match between two village teams in Swansea on Saturday.
Owens, from Mynyddcerrig in Carmarthenshire, recently talked about the private struggle with his sexuality in a BBC programme, True to Myself.
Did you like this story? Why not head over to our Facebook page and take part in today's debate...