Wales has highest empty shops rate in the UK, figures show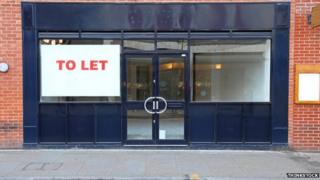 Wales has the highest rate of empty shops in the UK, standing at 15% compared to an average of 11.7%.
Figures released by the Local Data Company show the rate for Wales has increased by 0.1% from 2014.
Director Matthew Hopkinson said the worst areas have one in four shops vacant. And he highlighted Newport as somewhere with a high vacancy rate that is "continuing to rise".
The Welsh government said it has measures in place to support towns.
In Torfaen, Blaenavon mayor Gareth Davies said recently opened art and tea shops in the town offered something different to a traditional high street and are bringing people in.
But speaking to BBC Radio Wales, he warned: "The only danger is with so many shops turning into houses, there aren't that many spare retail places."
A Welsh government spokesperson said: "We fully recognise the valuable contribution busy high streets make to the Welsh economy and community life."
It runs a number of initiatives such as a £109m regeneration programme, £10m loan funding for town centres and an annual Support Your High Street campaign.