Events held in Aberavon to commemorate Dic Penderyn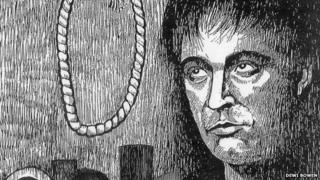 Events to commemorate the death of a miner executed in the aftermath of the Merthyr Rising will be held in Neath Port Talbot on Sunday.
Richard Lewis, known as Dic Penderyn, was arrested in July 1831 and executed on 13 August the same year.
He was accused of trying to kill a soldier, though an investigation showed he was not at the scene.
A walk will take place from Pyle Square to St Mary's churchyard, Aberavon, followed by a remembrance service.
Mr Lewis is regarded by many as a working class martyr and calls have been made to Justice Secretary Michael Give for him to be pardoned.
The week-long Merthyr Rising was sparked by anger at low pay, debt and appalling working conditions in the ironworks and mines of the south Wales valleys.