94% of Welsh cattle free from TB, chief vet says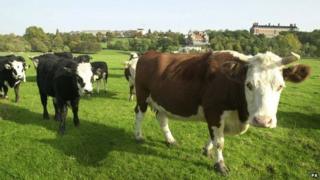 Various measures against the spread of TB in cattle are starting to show results, according to the chief veterinary officer for Wales.
But Prof Christianne Glossop said it was too early to determine the impact of the badger vaccination programmes in Pembrokeshire.
Speaking at the Royal Welsh Show in Llanelwedd, Powys, she said incidents of TB have fallen by 28%.
She added a 45% cut in animals being culled had left 94% of herds TB free.
'TB is expensive'
The five-year vaccination programme has one year remaining, with results not expected for another two years.
Prof Glossop said that the cost of vaccination could be reduced by providing grants to farmers and landowners to carry out some of the labour work themselves.
She said: "TB is expensive. This year we're spending £25m in Wales on cattle testing, on compensation to farmers, on breakdown management, on a new programme we're rolling out to get private vets more involved in supporting their clients.
"So against that backdrop the notion that vaccinating badgers is expensive, it's just one piece of the whole programme."
Prof Glossop added the most expensive part of vaccinating was labour - walking fields, finding the badgers and catching them.
"If the farmer could put in some of the labour, or the landowner, then actually some of that cost gets chopped away," she said.