Carers 'more likely' to drop out of college or university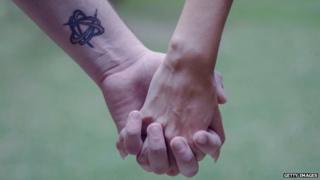 Carers are four times more likely to drop out of college or university than their peers, a new report has said.
There are more than 22,500 unpaid carers aged 14-25 in Wales who support a friend or family member.
Carers Trust Wales' report said young carers miss or cut short 48 school days a year and 35% have not told anyone at school about their responsibilities.
Director Simon Hatch said: "It is time to listen to the voices of young adult carers."
The report, Time to be Heard Wales, will be launched at the Senedd in Cardiff on Thursday and provides recommendations about what can be done to give young carers better support.
Mr Hatch added: "Leaving school, going to college or university, entering employment - these are difficult transitions for all young adults.
"But for young adult carers, when there isn't the support that they need, they can be insurmountable obstacles."
A Welsh government spokesman said: "We are currently working with CollegesWales to understand how colleges support young carers, and identify whether additional guidance, support or staff training would be of use."