Mental health spot-checks - ward-by-ward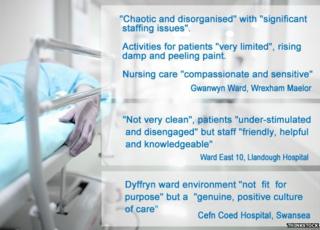 Mental health ward-by-ward spot checks for elderly patients across Wales have been revealed.
Reports on how 21 hospitals performed were published on Thursday.
The inspections were ordered by Health Minister Mark Drakeford following the critical Trusted to Care report on elderly patient care last autumn.
The findings have revealed a "considerable variation" in standards.
Here are the summaries for each unit:
---
Aneurin Bevan University Health Board
Annwylfan Ward, Ysbyty Ystrad Fawr - Ystrad Mynach, Caerphilly county
Positives:
The wards were "clean, calm, quiet"
The bedrooms are all en-suite, accessible and personalised with patients' own belongings
All patients were wearing their own clothes and appeared "well cared for"
Patients have ready access to snacks and drinks and a choice of main meals is provided where possible
Relatives and carers involved in "a wide range of aspects" of their loved ones' care
"Excellent understanding" of person-centred care and vision from the ward manager
Negatives:
Poor service provided by speech and language department
Two systems of recording patients' information, paper and electronic, which resulted in "inconsistencies in information"
The health board was asked to make immediate improvements in the following area:
A review of prescribing practices
Cedar Park Ward, Ysbyty'r Tri Chwm - Ebbw Vale, Blaenau Gwent
Positives:
Clean
Patients appeared well cared for
Meals "looked really good and well presented"
Good arrangements for shift handovers and training
Negatives:
At night there was "low levels of staff, shared across two wards"
Only one toilet was dementia friendly
Specialist beds were not available
"Inflexibility" in relation to when patients could wake up in the mornings; all needed to be up by 08:30 BST
Some issues in relation to staff understanding of what constitutes safe holding and how this is dealt with in patients notes"
Some issues with delays in the mental capacity assessment process
Areas where the health board was asked to make improvements:
More flexible patient-centred approach
Raise issues around restraint
Improve availability of emergency medication
Review nursing establishments, "especially at night"
Tredegar Ward, St Woolas Hospital - Newport
Positives:
A "very clean, calm, friendly and safe" environment and a "strong multidisciplinary team"
All patients were dressed in their own clothes and appeared well cared for
Good evidence of medication being reviewed and tailored, and of relatives and carers involvement in the care
Information pack for relatives and carers and risk management arrangements were worthy of note
Negatives:
Some issues with ensuring that all staff were up to date with their training in safe holding techniques
The health board was asked to make immediate improvements in the following areas:
The removal-of-out of date medication
Clywedog Ward, Llandrindod Wells Hospital - Llandrindod Wells, Powys
Positives:
A "light, airy, calm, friendly and well laid out" ward with good visibility everywhere
Patient areas including the outside space were "personalised, dementia friendly, clean and non-cluttered"
The staff were observed to be "happy and well motivated"
Patients were dressed in their own clothes and appeared well cared for
Well developed and person-centred care and treatment plans
There was "excellent" evidence of activities undertaken with the patients by all staff, and there was "obvious excellent team working with patients"
Negatives:
Some minor issues in relation to the storage of medication
Some difficulties noted with accessing training due to the rural location of the hospital
Areas where the health board was asked to make improvements:
Asked to improve the provision of bilingual signage and the storage and date checking of medication
Asked to review fridge policy and remove out of date books for prescribing
---
Abertawe Bro Morgannwg University Health Board
Dyffryn Ward, Cefn Coed Hospital - Swansea
Positives:
The ward was "well organised" and "welcoming"
Staff were "happy and well motivated"
A genuine, positive culture of care "permeated" through the ward
Excellent team working
Evidence of decisions about resuscitation being discussed in family meetings with lots of 'thank you' cards on display
Negatives:
The ward environment is not fit for purpose
Patients are regularly sent to sleep on another ward
The lack of suitable outside space for the patients to use noted as "a gap"
Areas where the health board was asked to make improvements:
Urgent authorisations were not being requested
Care and treatment planning training was needed
Ward G, Neath Port Talbot General Hospital - Port Talbot
Negatives:
Patients had access to high risk areas such as bathrooms
TVs with hanging wires
No evidence in patients' notes in the use of restraint management
Little evidence of activities with patients; not always possible due to staffing levels
High number of patients given anti-psychotic medication compared to other wards; one chart not signed by a doctor
Door to the treatment room unlocked
"Some tensions" noted between management and staff; no clear lines of accountability
No written handover in some patient documentation
Areas where the health board was asked to make improvements:
Carry out audit of ligature points within 48 hours of spot check
Make ward more dementia friendly and need to have clear systems and processes
Review prescribing practices for anti-psychotic medication, heating, TV wires, care and treatment plans, nurse staffing and skill mix
Ward 2, Angelton Clinic, Glanrhyd Hospital - Bridgend
Positives:
Light and welcoming with entry to it via a "fantastic" atrium which is clearly used for activities with the patients
Lots of photos of activities and events which the staff had undertaken with the patients
The patients looked well cared for and were wearing their own clothes
Managers observed to be strong leaders
Negatives and action:
Asked to make improvements over the short to medium term by reviewing care and treatment planning
Training needed for staff to use resuscitation trolley
Tawe Ward, Ystradgynlais Community Hospital - Ystradgynlais, Powys
Positives:
The ward was "light, airy and calm" with wide corridors and large communal areas
Environment was felt to be dementia friendly
Some evidence of activities on the ward for the patients
High proportion of Welsh speaking staff and staff working hard to deliver person-centred care with limited resources
Negatives:
Provision of services on this ward
"Significant issues" with staffing levels; short and long term sickness and staff performance reporting arrangements
Areas where the health board was asked to make improvements:
Staffing levels
An assessment of the function and purpose of the ward
Staff performance reporting
Suite 2, Tonna Hospital - Tonna, Neath Port Talbot
Positives:
Warm and homely feel
All patients were wearing their own clothes and looked well cared for
Good understanding of safe holding
Medication not overused or underused
Flexible visiting times and "excellent" information on notice board and in information packs
Negatives:
Flooring and decoration
Lack of ready access to dietician for 10 patients who require special diets
No Mental Health Act assessments were found in patient notes
Staff activities with patients hampered due to lack of resources
Areas where the health board was asked to make improvements:
Carry out an audit of ligature points within 48 hours of the spot check
Review the availability of resuscitation equipment
---
Cwm Taf University Health Board
Ward 7, Ysbyty Cwm Cynon - Mountain Ash, Rhondda Cynon Taff
Positives:
Ward was observed to be clean, quiet and calm
Staff were warm, friendly, helpful and responsive
Care was observed to be delivered in a "timely and appropriate way"
Negatives:
Bathrooms cannot be unlocked from the outside so a risk that patients could lock themselves in
Some wheelchairs in use on the ward are not safe
Issues in relation to the storage of medication, date checking of medication and dealing with unused medication
Relatives and carers are not actively encouraged to assist protected mealtimes
Communal rooms were "cold"
Issues securing general medical staff to "attend the ward"
Lack of "therapeutic activities"
Decoration was "bland" and not particularly dementia friendly
Areas where the health board was asked to make improvements:
The replacement of the wheelchairs with a more appropriate model
The fitting of locks to the outside of bathroom doors
The administration of covert medication
Activities for patients and improving the surroundings to be more dementia friendly
Cambrian Ward, Ysbyty George Thomas - Treorchy, Rhondda Cynon Taff
Positives:
High quality person-centred care
Strong ward leadership
A dedicated and motivated staff team
Negatives:
Access to social work, speech and language therapy services was by referral and described as "poor"
No recommendations made, however it was requested ill fitting curtains/lockers were replaced.
Seren Ward, Royal Glamorgan Hospital - Llantrisant, Rhondda Cynon Taff
Ward manager described as providing "excellent leadership"
Regular reviews by the occupational therapist
Vibrant decoration of the wards and communal areas
Negatives:
Access to ward via locked doors where there is "considerable traffic" which is disruptive to the patients
The ward environment was not dementia friendly
Medicines fridge was locked however the key to open it was lost
Issues for staff over access to training
Doctors making decisions without informing other staff, such as DNR or breaking bad news
Areas where the health board was asked to make improvements:
Involve relatives and carers in decisions
Replace the medication fridge
Develop a policy relating to covert medication
Staffing skill mix
---
Cardiff and Vale University Health Board
Ward East 10, Llandough - Penarth
Positives
Carers group which is well supported
Bedroom door sensors which enable patients to be monitored
Friendly, helpful and knowledgeable staff on duty
Negatives
Not very clean and the ward treatment room and office were observed to be untidy and cluttered
"High number of instances" of delays to patients being discharged home or into the community
Patients' bathrooms and toilets were in need of cleaning
Clothing looked tired
Much more could be done to encourage patients to carry out productive tasks
Some patients were seen to wander along the corridors which appeared to be a result of them being "under-stimulated and disengaged"
Day room not conducive to encourage social interactions
Families voiced concern regarding their lack of involvement in decision making and rigid approach to visiting hours
High staff sickness and vacancy rates
Areas where the health board was asked to make improvements:
The cleanliness of the ward environment
Repair both of out of order lifts preventing ready access to the outside space
Staffing levels and management of sickness absence
Coed y Felin Ward, Iorwerth Jones unit - Llanishen, Cardiff
Positives:
Multidisciplinary team
Photographs on patients' notes
Personalised placements to assist with mealtimes
Information on wardrobes setting out assistance patients may need with personal care
Negatives:
Physical environment of ward, especially in the common areas, "inappropriate" for the needs of patients and "looked uncared for"
In places the floor was "sticky" and there was a "musty smell" in some areas
Lack of understanding of safe holding or information in care and treatment plans about its use
Some "unusual" prescribing of medication
Issues with storing medication and administration/recording of its use
High amount of long term sickness and concerns about management's ability to recruit staff
Areas where the health board was asked to make immediate improvements:
Replacement of the floor throughout the ward
Overall ward cleanliness
Removal of rubbish and broken furniture from the internal and external communal areas
St Barruc's Unit, Barry Hospital - Barry, South Glamorgan
Positives:
Person-centred care
Nurses shadowing physiotherapist and occupational therapist to develop their skills
Continuity of care
Sensory stimulation throughout the ward
Negatives:
Unsure as to the level of staff understanding of mental health legislation, mental capacity legislation and DoLS
Mix of hard copy and electronic records for each patient which was felt to be unhelpful
No dedicated occupational therapy provision for the ward
Fridge thermometer broken and medication storage inadequate
Some evidence medications not being administered correctly in one case and some inappropriate practice
Medical/consultant input into the ward was felt by some of the staff to be irregular
Areas where the health board was asked to make improvements:
Staff training in mental capacity legislation
The administration of medication including "covert medication"
---
Betsi Cadwaladr University Health Board
Gwanwyn Ward, Wrexham Maelor Hospital - Wrexham
Positives:
Carers group
Open and flexible visiting times
Daily multidisciplinary team meetings
All staff have some level of dementia training
Negatives:
The ward was "chaotic and disorganised"
The ward environment, whilst clean, was generally unkempt
Rising damp was seen as was peeling paint and plaster
The bedrooms were sparse without any personal touches and in places there were unpleasant odours
Most of the walls were bare
Activities for the patients were very limited
Some "significant issues" with staffing on the ward; there were nine vacancies and recruiting has proved slow and difficult as the posts are considered to be unpopular
Areas where the health board was asked to make improvements:
Doctor/consultant and occupational therapy support issues being reviewed
Staffing levels over the Christmas period being addressed
Staffing across all disciplines
Communal area needs to be dementia-friendly
Review medication management
Fan Gorau Ward, Montgomery County Infirmary - Newtown, Powys
Positives:
The ward was observed to be calm, quiet, clean and tidy
Bathrooms and toilets were very clean
Inspectors found evidence of good practice, with a consultant psychiatrist being based on the ward
Involvement of relatives and carers in multidisciplinary team discussions about their loved ones care
Negatives:
The bedrooms were "stark and bland" and lacking in personal touches
A general lack of environmental stimulus
No structured or meaningful activities available to the patients, nor any specialised equipment
Areas where the health board was asked to make improvements:
Upgrade ward environment to better cater for specific needs of patients with cognitive impairment, like colour coding
Review the nurse management structure
Staff development for dementia care
Develop information for patients and relatives
Training for staff in preparing patient documentation
Review need to install a shower
Tegid ward, Ablett Unit, Ysbyty Glan Clwyd - Rhyl, Denbighshire
Positives:
Accessible and dementia' friendly garden
Personalised bedroom areas
"Passionate and committed" staff
Ward manager was a good leader and "empathetic and caring" in her manner
Negatives:
The physical environment of the ward was "inappropriate" for patients' needs
The lounge and dining room were "too small" with adequate seating
No dementia friendly facilities
Evidence of lack of ward clerk support; office very untidy and there was no evidence of notes or documentation management
Some concerns about the effectiveness of communication channels between senior management and ward staff
Some concerns about the attitudes of some of the unqualified staff
Areas where the health board was asked to make immediate improvements:
Development of care and treatment plans
Ensure patients were informed of their right to advocacy
Storage of medication
Provision of resuscitation equipment
Repairing the out of order toilet and installing a shower curtain
Cemlyn Ward, Ysbyty Cefni - Llangefni, Anglesey
Positives:
Good practice and well managed
Use of colour throughout the ward "dementia friendly"
Policy of not allowing bank staff to administer medication until they know the patients well
Strong team relationship
Areas where the health board was asked to make improvements:
Improving Care and Treatment Planning
Ensuring patients were informed of their right to mental health and mental capacity advocacy
The provision of pharmacy support
---
Hywel Dda University Health Board
Enlli Ward, Bronglais General Hospital - Aberystwyth, Ceredigion
Positives:
Excellent support from clinical psychologist
Patients in own clothes and appeared well cared for
Generally good awareness and application of mental health legislation
Negatives:
No evidence of tailored activities being provided for patients and the activities room is used as a storage space
The garden area cannot be used because of uneven floor and other surfaces
Many of the chairs for patients are not fit for purpose
Some patients were observed to be unable to get out of their chairs
Staff do not feel involved in major decisions
Strict routines which were not patient centred
Recruiting difficulties
Some nutrition issues
Areas where the health board was asked to make immediate improvements:
The appointment of senior ward management staff
Difficulties in securing the ready availability of food, drink and snacks
St Non's Ward, Withybush General Hospital - Haverfordwest, Pembrokeshire
Positives:
Well organised, light, airy, calm, quiet and clean
Staff were "very welcoming"
Standards of assessment and care plans appeared to be "very good"
Patients in own clothes and appeared well cared for
Nutrition project has helped improve choice; standard of documentation excellent
Good application and awareness of mental health legislation
Always a Welsh speaking member of staff
Negatives:
Some difficulties in moving patients into the community due to closure of local care home
Long response times for fixtures, fittings and equipment "appeared to be the norm"
Strict ward routines not felt to be person centred
Pharmacist only visits once a week
Areas where the health board was asked to make improvements:
Review ward routines
Undertake dementia friendly audit of environment
Review number of hi-low beds
Review pharmacy support
Review response times from support facilities
Remind staff of importance of checking patient identification before administering medication
Bryngolau, Prince Philip Hospital - Llanelli, Carmarthenshire
Positives:
Well lit, though some areas would benefit from decoration
TV in lounge which is well used by patients
Patients wearing their own clothes and looked well cared for
No food issues observed and a "pleasant" dining room
Good awareness of mental health legislation
Activities clearly take account of patients' diagnosis
Negatives:
Five bedrooms out of sight of nurses
Minor issues with storage and date entries on medication
Areas where the health board was asked to make improvements:
Refocus service to be more patient centred
Address fridge problems with pharmacy and review medicines stock checking
Review hi-low bed availability
Address emergency medical cover response when required