Tata Steel staff work-to-rule ahead of planned strike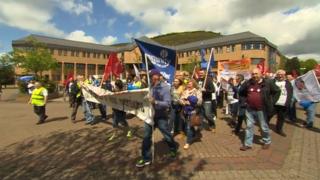 Steel workers across Wales are among UK staff taking part in work-to-rule action ahead of a planned strike over pensions next week.
Members of four trade unions are also refusing to work overtime before Monday's 24-hour strike.
They are protesting over proposed changes to their pensions, which includes plans for employees to retire at 65 instead of 60.
Tata Steel said it had to take action to stem a £2bn shortfall in the scheme.
The firm employs more than 7,500 people in Wales across sites in Port Talbot, Llanwern in Newport, Shotton in Flintshire and Trostre, Carmarthenshire.